Cool Creek Apartments
Property Name: Cool Creek Apartments
314 Units / Built 1978
1, 2 and 3 bedroom garden style and 2 and 3 bedroom Townhomes.
The Evaluation
Indianapolis based Harcourt Management was looking for solutions to rising utility cost on there 314 unit property. Analysis of the properties performance showed that even if rentals were maintained at a 95 % level the rising utility cost year after year would soon eat away the profits.
The management company started evaluating all aspects of the properties performance and decided the only expenditure that they could not control was the water / sewer utility.
A RUBS program was ruled out as the owners felt that the system was unfair. The properties profile still included a mixture of residents with 7 different floor plans making a RUBS system arbitrary. The owners also felt that sub metering each unit showed they wanted to control the cost, but they wanted to do it fairly. They felt a RUBS system would imply they had only their own interest in mind and that they did not care about the residents financial situation. A sub metered property would allow residents who practiced conservation methods would benefit.
After looking at several systems the owners elected to install the SpeedRead Sub Metering System for several reasons:
It allowed multi port connections, reducing the owners cost.
The systems architecture was non proprietary and would allow numerous RBC companies to read the meter data. This gave the owner numerous choices in picking an RBC.
The system was easy to maintain and replacement cost down the road would be low.
Preparation
In preparation for sub metering, the owners started a marketing program that would help educate the residents and the staff for questions that were sure to come.
This educational program included programs that showed residents how they could reduce their water bills. It also included material on how the bills would be processed and what they looked like. Additional information included consumption data and the effects leaks played on individual usage. Since most residents had never paid a water bill for they had no idea how much water a normal family would use.
In addition they asked all residents that had water leaks to call in a work orders so that repairs could be made before the billing system started.
The on site staff's involvement was necessary to insure the overall acceptance of the process was passed on to the residents. On site staffs concerns and issues were addressed by a simple question and answer session.
The RBC company that was hired to do the billing conducted a training session for onsite and corporate staff. They addressed issues relating to how does a bill get calculated, what happens if a bill is estimated and how does the RBC/ Resident / Staff relationship develop and what are each parties responsibilities. The importance of this relationship cannot be overstated. The relationship on team work is critical to insure vacants are not billed and that move in dates are recorded to start the billing cycle in a timely manner.
This preparation stage plays a critical role. If the on site staff is on board then objections of the plan by residents are easily overcome. It also decreases the headaches after implementation of the system.
Cost and Recovery
The following charts and figures reflect what sub metering has accomplished for Cool Creek Apartments. The results are far above what was expected. The water savings alone are an indicator of how making the residents responsible made them more conscientious.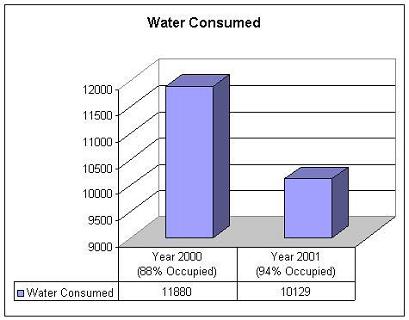 1,750,000 Gallon reduction in water usage.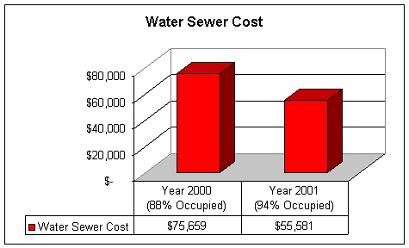 Reduction in Water / Sewer cost of $18,078 dollars with a 6% rise in occupancy.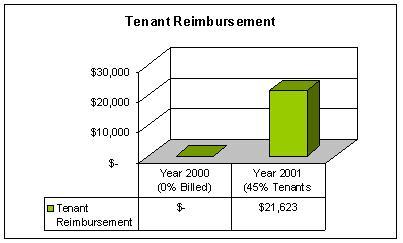 Cost of Investment: $43,000
Expected Pay Back Time on Investment: 1 year through reduced water bill and increased revenue.